Sweet as Sin
Inez Kelley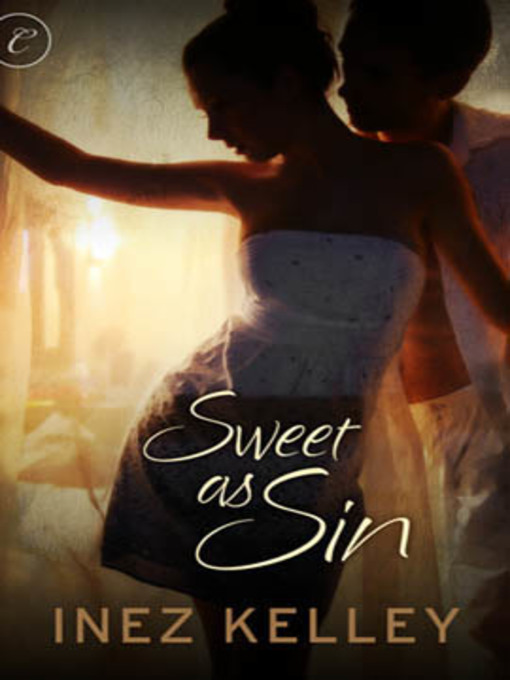 EXCERPT:
"Two for play?" One brow arched as he stared at the seemingly innocent mini cupcakes.
An idea sparked. It was so out of character for her, totally irresponsible and spur of the minute, that at first she rejected it. But it clung to her imagination like chocolate ganache—rich, decadent and tempting.
Livvy closed the door behind her. She took the thin clear case from his hands. "It's a twist on foreplay. Here, let me show you."
With a flick of her thumb, she popped the plastic top and the thick scent of buttercream wafted upward. His nostrils flared but his eyes never left her face. "Smells sweet."
"It is. It's Italian buttercream frosting, so it stays very…smooth and soft. The sugar is heated so it's like silk on your tongue as it melts."
John barely glanced at the pastry. "Buttercream. Silk that melts on your tongue. I like the sound of that."
"You'll like the taste, too. The heating means it's very sturdy but it tastes very delicate."
He lifted his hand and drew his knuckles down the curve of her cheek. Her breath caught. "Sounds… sinful."
Livvy inched closer and tilted her head. "Want a bite?"
"Oh, yeah."
"Devil's Food or French Vanilla?" The words meant nothing. She was offering him so much more.
"Devil's Food, of course." He accepted her offer with a whisper.
His pupils dilated and his tongue skated across his lip. The cake was heaped with a frothy swirl of frosting in snowy white. Slowly, she licked half the frosting off the mini. She held it in her mouth and stepped to him. The sugary cream slipped from her tongue to his.
Drenched in sweetness, his mouth caressed hers. Long after the frosting had melted away, she pulled back and brought the cupcake to her lips. John's breath deepened as she held half the mini dessert in her mouth. Gripping his neck, she yanked his lips back to hers. A wolfish grin appeared just before he took the dark cake and her kiss in one greedy motion. The shared bite melted with their heat and dissolved with their hunger.
A stray trace of chocolate speckled his lip and Livvy brushed her finger against it. He captured her fingertip, drawing it inside his mouth for a wet caress. A throb began between her legs.
"Your turn."
John plucked the remaining mini from the box. He licked half the dark fudge frosting away, curled his arm around her waist and drew her mouth to his. The rich chocolate coated her tongue, flavoring the moan that sprang from her chest. Whatever calories were in the frosting were burned away by his kiss. His sharp teeth pierced the pale cake before the other half touched her lips. A sudden burst of spongy vanilla filled her mouth, mingling with creamy fudge and sizzling John Murphy.
"Two For Play, I like it." His sugary breath warmed her cheek.
"We're not done yet."
She lifted the carton. In a third compartment, generous ruffles of chocolate and vanilla circled each other in an erotic blend. His gaze followed as she dipped one finger in the frosting and brought it to her tongue.
"Can I tempt you into a taste of sin, Murphy?"
~~~~~~~~
She's made for sin. Sin is something he knows intimately.
John Murphy is tormented by nightmares. A bestselling young-adult author, he writes the ultimate fantasy: stories where good always triumphs. He knows better. His past has shown him the worst in people—and in himself. When he moves next door to the sexy, vibrant Livvy—a woman completely unlike his usual one-night stands—he's driven to explore every curve of her delicious body.
Pastry chef Livvy knows that giving in to the temptation that is John Murphy won't lead to anything permanent, but she deserves a passionate summer fling. John discovers she's as sweet as the confections she bakes while Livvy slowly unravels his secrets. But what will happen when she uncovers them all?
Inez Kelley is a multi-published author of various romance genres. You can visit her at her website My link
Buy Sweet as Sin at Carina Press, AMZ, ARe, or B&N