Alexa Kaye has been a very busy girl lately. And all her hard work is really paying off. She's just released her fourth book, MINE TO TAKE, a contemporary mail order bride story that is a sticky-hot, sweet story of insta-love and baby-making. This over-the-top romance is a perfect bedtime read…and may inspire you to kill the Kindle, grab your partner, and practice some baby-making yourself.
If you've loved Alexa's first three over-the-top stories of insta-love, you're bound to love this one!
Of course it's free for KindleUnlimited subscribers! And for those who don't subscribe, I'm launching it at $0.99. It won't stay that price for long, so grab it right away!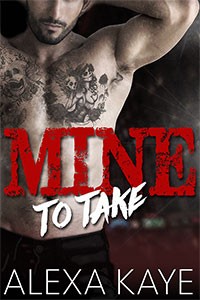 I didn't want a wife.
Yes, I found myself a mail-order bride. But before my would-be wife got on the plane to come to Alaska, I changed my mind and canceled the wedding. She ended up coming anyway.
And now that I've seen her, touched her, tasted her, she's going nowhere.
Alaska is a wild, vast place. It's dangerous. It's beautiful. It's untamed. And my desire for my bride is just as fierce and unrestrained.
Mila may be scared of both.
She may even try to leave.
But I'll make sure the only direction she runs is into my arms.
Mine. Mila is mine.
$0.99/KindleUnlimited
 And now, how about some deals?!