Job Opportunity: Marketing Director
by Tawny Taylor on March 9th, 2011
No Comments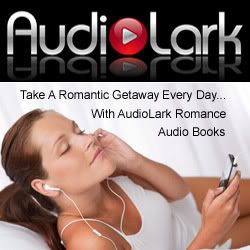 AudioLark Audio Books and its erotic division AudioMinx published over 70 romance audio books in its first year. Our audio books are available through our own websites and through Audible.com, Amazon, iTunes, Barnes and Noble, BooksAMillion and libraries across North America. Now expanding into ebooks and other fiction genres in addition to romance, AudioLark is poised to grow tremendously in the next twelve months. We are looking for a Marketing Director to grow along with us.
Job Description:
The Marketing Director will develop and implement an effective marketing program to promote all aspects of AudioLark Audio Books and its divisions. Duties may include:
Developing marketing campaigns for new titles
Coordinating product reviews
Maintaining blogs and developing social media strategies
Coordinating author blog tours/appearances/special events
Designing and implementing contests and events
Developing partnerships with publishers, retail outlets and alternative sales outlets
Designing and implementing ad campaigns and promotional literature
The Successful Candidate Will Possess the Following Qualifications:
A love of fiction in general and romance novels in particular.
Excellent written and spoken English skills.
An eye for design.
A passion for communication.
Significant personal presence with excellent networking skills.
The ambition to make your mark in the ebook and audio book industry.
Previous sales or marketing experience.
Previous ad and copywriting experience.
A sense of trends in romance publishing.
In-depth knowledge of social media and software such as Facebook, Twitter, Blogger, WordPress, etc.
In-depth knowledge of the romance publishing industry and the major players within it.
Tireless enthusiasm for promoting the AudioLark brand and all of our authors and titles.
A professional attitude and manner of communicating.
A willingness to learn.
This is a commission-based position. Commissions are based on the company's overall sales with a generous incentive structure.
Please send your resume and a cover letter detailing applicable experience to jennifer@audiolark.com.
Related Posts
Related Websites
Tags: AudioLark, jobs, marketing director, publishing
Categories: Publishing Industry